Group Therapy: Lessons from the Guinea Pig Club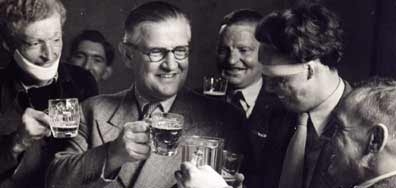 During World War II, the number of soldiers, particularly fighter pilots, suffering from disfiguring burns skyrocketed, which inspired a revolution in the field of reconstructive surgery. Prior to the 1940s people generally died of severe burns due to the shock. One doctor in Britain, named Archibald McIndoe, was charged with treating hundreds of RAF pilots whose hands and faces were often barely recognizable, and therefore did a lot of experimenting, both in keeping people alive and in putting their faces back together. What's fascinating about McIndoe's story is that he put just as much energy into healing the veterans' psyches as he did their bodies. 
The result of McIndoe's approach was 'The Guinea Pig Club', a group of veterans who had been 'experimented on' by the doctor, and had survived, though generally with significant disfigurement. Instead of isolating the men to protect them from rudeness and ridicule and treating them as though their new appearances would severely restrict life's possibilities, McIndoe did just the opposite. He treated them like ambassadors for the war effort, encouraging regular clothing and socializing in the hospital wards, and launched a public relations campaign that insisted that the men were heroes and had a significant contribution to make to their country's morale. The result was a serious amount of healing: reintegration into society for the men, a mental shift for their communities, a rowdy drinking song and a group that still exists today.
(Sadly, many wounded American pilots did not recieve the therapeutic social benefits of McIndoe's crew; American communities demanded the burns victims be isolated.)
Different times, you might say. Unusual circumstances. Really? I think there's a lot to be learned from what started out as a drinking group.
Why the 'Guinea Pig Club' Was Great Group Therapy
It broke the isolation for a group who normally would have been driven into hiding. Therapists often work with populations who experience a lot of shame and fear of being ridiculed. If you can show your clients that they aren't alone, you're achieving a lot.
 
It gave its members a sense of purpose, and placed focus on their strengths (also known as good 'ole empowerment). Acknowledging the horror of what people have been through is essential; letting that experience define them is not.
 
It refused to accept the traditional view of a 'burn victim'. We don't have to accept what the rest of the world assumes about us to be true, and we're doing our clients a great disservice if we don't try to help them see themselves in new ways.
 
It was fun! It had a sense of humor, and a theme song! While more traditional support groups have a lot to offer, there are a ton of different options out there. People run therapeutic writing groups, and there's an addictions agency near me that has a whole recreation therapy department! They go skiing, and dancing, and bowling, and to bingo... and meditation... and yoga…..
The social aspect of mental health is important.
Sometimes our focus on 'treatment' can cause us to overlook the healing power of aspects of daily living that we often take for granted: seeing friends, feeling accepted, being part of a community, having something to do that makes us feel productive.
Group work is a great way to actively address this stuff, because a lot of it is built into the model to begin with. Just think what we could do with a little creativity - maybe a bi-polar knitting club, a garden club for the anxiety prone, card playing, hiking, horseback riding, art or poetry therapy groups, cooking groups - the possibilities are endless.
Your Turn: What kinds of occupational/mental health group therapy mash-ups would you like to see?