Alternative Currencies: a Viable Alternative for Therapists?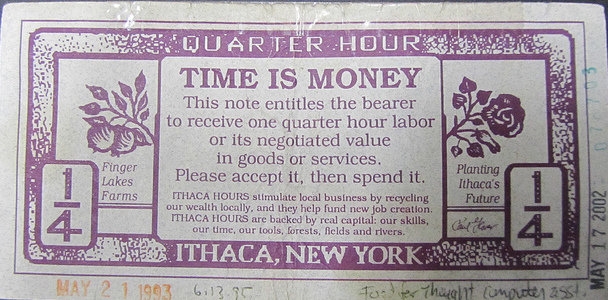 In the USA today, there are roughly 46.3 million people living without health insurance, and of those who have it, not everyone has mental health and well being coverage.  This means that an enormous amount of Americans have to pay out of pocket for therapies of all sorts, which in many cases means these services are entirely out of reach.

This situation creates an interesting problem for therapists. Most of us got into our chosen profession at least partially because we wanted to help people who are suffering in some way, who are in need. We all know that poverty is tremendously hard on people, both physically and mentally, and we're painfully aware of how useful our services could be for those struggling with the myriad issues associated with being poor.
The question becomes, how can we have a sustainable practice while still providing service to the increasingly large numbers of people who are without coverage and/or unable to paystandard rates for therapy?

Tough times seem to bring out great creativity and ingenuity in people and several communities in the US and elsewhere have come up with systems of alternative currency, enabling people who live there to barter, trade or pay with their time.

Is this an approach that makes sense for you in your practice? You're the only one who can decide that, but here are some points to consider in both directions.
 
The Pros
Taking advantage of an untapped market…
From a purely business standpoint, folks who are without insurance and unable to pay out of pocket constitute a huge population who are currently not accessing therapy services. If you can figure out a way to make it work, chances are you won't be lacking in clientele.

Opening doors…
Accepting alternative currencies means creating an option for people in your community that wasn't there before. Their lives will be enriched by having access to services that can improve quality of life, and yours will be enriched by working with populations you may have had less exposure to.

The empowerment factor...
Poverty often causes great feelings of being disempowered and isolated, as though without money we're somehow worth less, have less ability to participate in society and have nothing to offer. Bartering and alternative currencies provide the opportunity for people to start to think about what it is that they can offer, and gives them the chance to do so. And that's empowering.
 
The Cons
Boundaries and power dynamics…
Traditionally, in therapeutic relationships, the roles are relatively fixed. You pay, I provide: I'm the therapist, you're the client. Many of us have training and the collective knowledge of the profession behind us, modelling ways to navigate boundaries and the dynamics of power and authority within traditional therapeutic relationships. The disclosure of information generally flows in one direction, so what happens in bartering situations where the roles are somewhat reversed? While it's clearly not impossible to navigate, you might learn some hard lessons as you blaze a trail.

What's it worth to you?
One thing that can be said for the greenback is that for the most part, there's a broad understanding in society about what things generally cost, on everything from a used car to a 30 minute massage. Particularly while alternative currencies remain on the margins, coming up with a standard rate for service could be tricky, and if you're bartering it could add an entirely new level of complication to negotiating a contract with clients.

I still have to pay the rent…
While the venues for using alternative currencies may be growing, depending on where we live we're probably a long way off from being able to use them for the mortgage, which means we're still going to need a substantial portion of our incomes to come in the form of money. So that puts some limit on how much we can invest in alternatives.

What are your thoughts on alternative currencies? Do you have experience with them or thoughts on their use? Let us know!