Massage Envy: What They Have That You Don't Have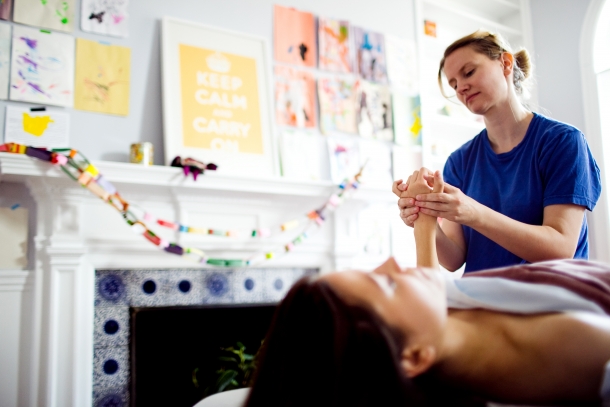 Creating a solid business model for a massage therapy practice can be a daunting task.
Let's look at Massage Envy* as a single case study to determine what they do and how it works. While creating a therapy franchise is the least appealing business model for an independent therapist, there are a few key elements that can be incorporated to strengthen your plan.
 
Create a Focus
Massage Envy has a business model that targets people who might not normally seek out massage therapy. Their potential clients have a lower income and few indulgences; they're not the kind of people who take off a Tuesday to go to the spa.
So Massage Envy caters to this demographic by offering a stripped-down version.
No seaweed wraps, no fancy hot and cold packs, no incense, no crystals, no Lomi Lomi. It's just massage - deep tissue, Swedish and maybe some hot stone. This creates a much criticized, but efficient, assembly line approach.
What can you learn from this?
For your practice, consider the people you most want to reach, and create a business model that caters just to them. Don't worry about alienating another type of client. You can't offer all things to all people.
Create efficiency by choosing the clients you want and create offerings that specifically cater to their needs… and nothing more.
 
Know Your Unique Business Proposition (USP)
Massage Envy is considered affordable massage for the masses - but that's not their unique selling proposition.
Massage Envy carved out a unique niche by selling an idea of a luxurious experience to people who don't normally indulge in luxuries. Their clients are proud to be able to afford a luxury normally associated with the wealthy.
Now that's a USP: A luxury even the masses can afford. Live like the wealthy do for a day.
You should have just as unique a USP as Massage Envy... but different.
Let's say you specialize in Fibromyalgia and chronic fatigue syndrome – an audience which is often misunderstood and mistreated. You could:
Use your knowledge to speak only to them in your marketing materials.
Tell them all about your pre-heated tables.
Let them see testimonials on your website from other Fibromyalgia clients.
Offer uncommon, experimental treatments. Explore new treatments together -- Fibro clients know they walk in uncharted territory, and if you help them build a personalized map for feeling better, they will spread the word.
 
Put Some Skin in the Game
At Massage Envy, their broad target market can make payment more problematic. To solve that problem, the company enforces an iron-clad membership contract that encourages visits on a regular basis and discourages no-shows.
Their clients are charged regularly and they must keep their appointment - or forfeit the amount of the service without receiving it.
Seems a little harsh, but for the demographic they serve, no-shows are common and could quickly make the business non-viable. Do they receive complaints? Absolutely. But, Massage Envy is large enough that they don't worry too much about those complaints.
So what can you do? Your practice can't afford to be quite this strict with your clients - after all, you don't have hundreds of other clients waiting to take their place. But no-shows are a big financial pain in the butt.
If you charge clients after the fact, it feels like you're punishing them - and that doesn't make for a happy client and will likely result in bad word-of-mouth.
If you create pre-payment plans and get payment when your client books, clients are less likely to feel resentful because the money was already spent by the time they miss the appointment.
This becomes an ethical question; how will you build behavioral rewards and punishments in your therapy business model? Should you? Almost every business does but can you do it without compromising your ethical obligations?
In the case of a small private practice I'd suggest going with the pre-payment incentive to the more painful missed appointment punishment.
 
Pay Your Sales Team (You!)
Massage Envy and similar therapy chains are notorious for lower than industry average therapist pay and high employee turnover. Massage Envy separates their labor force by task like a fast-food chain. They need desk staff to sell new clients on those lucrative long term contracts. Therapists just do massage.
The lessons of Taylorism and Fordism show us, that when you separate labor like cogs in a machine, you may increase productivity for a short time but workers suffer greatly for it.  
No one likes low pay and I'm not suggesting you take a lower wage. No, no, no - just the opposite. I'm saying you need to do every task well when you're a one person show. When you work for yourself, the risk is higher and so are the payoffs. Those payoffs are: purpose, mastery and and higher pay.
Here is where you can do better than Massage Envy.
Build efficiency and scalability in mind but maintain personability
Define your USP and deliver a custom service
Run your practice with mastery & purpose
How's that sound? Can you do it?
Your Turn: What business model(s) work best for you? How much thought did you put into your business plan?